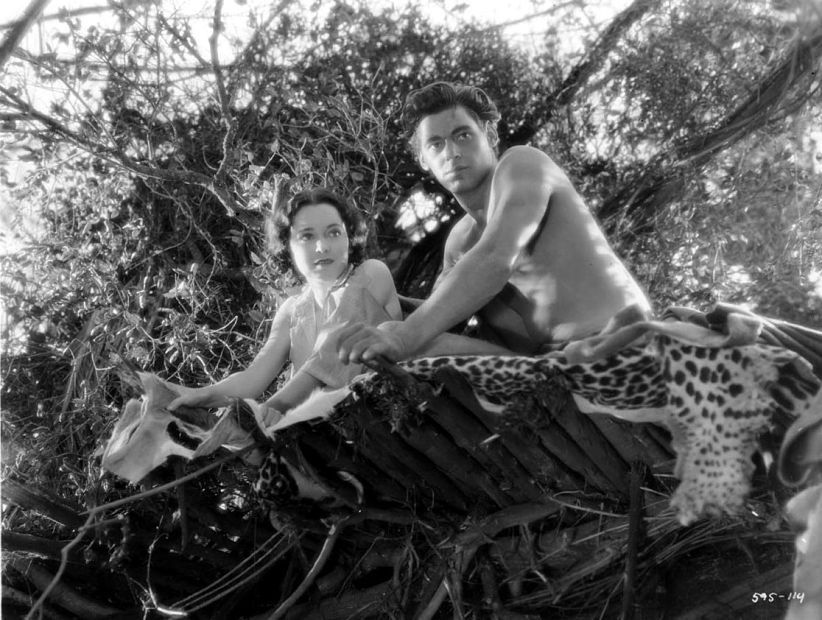 This is a pretty action packed movie once we get to the half hour mark. That's when we first encounter Tarzan. We see Tarzan swim faster than crocodiles, outrun hungry lions, fight leopards, gorillas and tribesmen, and he sure is an action man – he throws himself into fights and rescues with relish.
It's also a story about Jane looking for a lover who isn't so stuffy and inhibited as the men she's used to…and she sure gets what she wants from Tarzan. This is surely some primal fantasy?
Wiessmuller has great presence despite only saying about 20 words (Schwartzenegger would pull the same trick many years later – charisma can take you far), and Maureen O'Sullivan is a sexy, girlish Jane.
There's some dodgy racial angles to this – a tribe of pymies being blacked up dwarves…some with afro wigs with bones weaved in, anyone?
It's also pre-Hays code, so we do get a stampede of elephants through the 'pygmy' village, which includes elephants throwing the dwarves around and stomping on them.
A great family movie, all round.